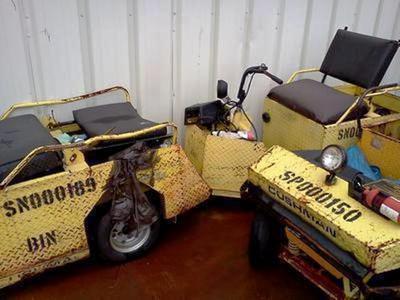 Getting around with these Cushman three-wheeled warehouse scooters (model numbers SP000150, SN000189,SN000186) is an absolute thrill.
Whether you're driving around a commercial zone, movie set, or even just using them to get to the end of your driveway in the morning to pick up the paper, these scooters will take you there in style.  With a rugged industrial design and comfortable seating accommodations, we think Cushman builds some of the best warehouse scooters in the business.  Boasting an ultra-sporty design, these models all come in a brilliant yellow and with a flashy open-air top.
The auction of these warehouse three wheelers is open now, so act fast.  Don't miss out on this great opportunity.  And don't forget – buying used warehouse scooters not only saves you money, but also saves the environment!!!
This sale for 3 of 'em — and they're located on the East coast –  is ENDING TOMMORROW.  Act now by activating your free trial and finding out the info before it is too late.