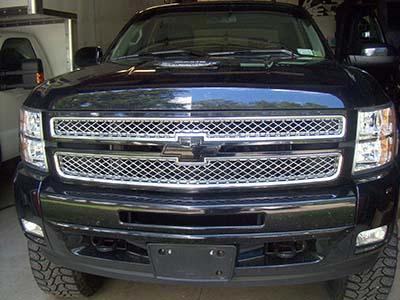 This vehicle is of the type that any Chevy Silverado forum dreams of discussing. You can bet all four of your tires that you won't find any vehicle nearly as awesome as this tricked out 2013 Chevrolet Silverado. This incredible truck has been customized by MCM Vehicles, a company specializing in extremely high performance on and off road SUV's and other vehicles. This pristine Chevy Silverado has a low mileage of just 12,634 miles (over the course of nearly 3 years!)
This 2013 Chevrolet is loaded up with an automatic transmission for its powerful v8 engine. Also included in this blacked out customized SUV are Power Windows, Power Seats, Power Door Locks and Power Steering. Air Conditioning is, of course, included in this amazing deal. This pick up truck comes with 4 Doors as well as an adjustable open/close Tailgate. The truck bed comes with a specialized cover for use even while driving, and the vehicle cabin is enclosed by a sturdy hardtop roof. Leather Seats are included for your luxurious comfort, and audio entertainment is within arms reach by means of in-vehicle perks, including AM Radio, FM Radio, and a CD Player. There is, of course, a built-in alarm System. This truck comes with Baja ATZ 35X12.50R20LT Tires from Mickey Thompson, and are supported by specialty blacked out After Market 20″ Eagle Alloys Rims. Keys are included for this fully functional black on black 2013 Silverado, and easy access to the cabin is guaranteed by the built in Running Boards. Some included options are the very useful Back up camera, Back up sensors, and window wind visors. This car comes with a powerful tow package as well. Other than the regular wear and tear, this vehicle is in prime condition, and is just itching to be driven.
You can be the very first bidder on this top of the line, souped up custom 2013 Chevy Silverado. With all customizations and upgrades included, this vehicle is easily worth at least $35,000 – yet the starting bid is just $15,813! There are just 12 days left in the auction. You have until Noon (12 PM Central Time) on October the fourteenth to claim this wonderful device as your own.┬á For any further information, simply┬áclick here┬áto subscribe to┬áwww.governmentauctions.org┬áfor your FREE 3 day trial today!