FEMA Trailers
For Sale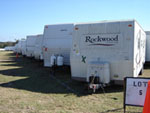 Good News! FEMA Trailers are back on sale by the Government after a long hiatus due to issues of formaldehyde.
Back in March 2007 the Government started offering FEMA Trailers for sale from the Katrina and Rita Disasters at fire-sale prices.
After the destructive hurricanes hit the Gulf Coast in August and September 2005, FEMA Spent more than $2.5 billion to buy up nearly 150,000 trailers, campers, and mobile homes, many of which were never even used. In 2007, the government started to sell these travel trailers, and many were bought for unheard-of prices, as potential buyers began inquiring how to buy a FEMA Trailer, many were gobbling up the FEMA trailer deals rather that spending $25,000 to $40,000 for a brand-new trailer.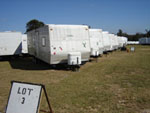 After some time, however, a media storm hit with reports of formaldehyde in the construction of the trailers, and, in December 2007, "out of an abundance of caution" and because Congressional leaders expressed outraged, the Government suddenly stopped selling the FEMA Travel Trailers. But demand for them had never died down.
Now -- after nearly a yearlong respite -- the FEMA trailers are back on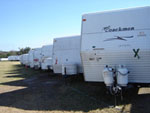 sale. However, many of them have been designated as "scrap" and until not too long ago were being sold as such. They seem to go on sale in batches, and the trailers in last batch were sold online by the government a short while ago as scrap. However, there is new batch of various FEMA Trailers, campers and mobile homes for sale and these DO NOT seem to be designated as scrap, but are simply being sold with a warning that they are manufactured with formaldehyde and have not been tested. While the government has stated that any "scrap" FEMA Trailers should not be used for occupancy and are not intended for habitation -- and we certainly do not advocate their use for anything other than scrap -- a FEMA Release posits that the trailers are suitable for other non-occupancy uses such as for office space, command posts, or storage. We're sure you'll figure out your own use. Just know that prolonged exposure to formaldehyde is very deleterious to your health, and, that a recent federal court decision (by US District Judge Kurt Engelhardt) ruled that government is not immune from lawsuits related to this issue. Nonetheless, various brands of travel trailers/campers are being sold (both individually, and in bulk), including Gulfstream Cavalier, Coachmen Cascade, R-Vision Trail-Sport, Monaco Holiday Rambler, Forest River, Recreation by Design, Fleetwood Spec and Merit, Pilgrim Spec, Crossroads Zinger, Jayco and others.
Whatever you want to use them for, we have the info, Activate Your Account with us and begin saving on scrap FEMA Trailers and other government seized and surplus property.
See blog posts tagged with FEMA Trailers for Sale