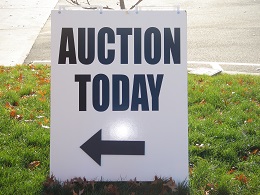 If you've been following along in our blog series on government agencies that conduct auctions, you've probably noticed that the two agencies we've covered thus far; the US Customs Service and the US Marshals Service, mostly deal with seized property. Both can be great places to find items at a discount, which you can either resell for profit or keep for yourself. However, in this blog post, we will be discussing the primary agency that is responsible for liquidating government surplus assets: the General Services Administration (GSA). Over the years, we've noticed that some of the best deals can be found at government surplus auctions, where you can buy things like cars, boats, planes, trailers, computers, furniture and anything else you can imagine. Keep reading to learn more about how GSA auctions.
What is the General Services Administration (G.S.A)?
You can think of the GSA as a business that the U.S. government owns and operates. The GSA was established in 1949 to help support the basic functioning of federal agencies. The GSA buys most of the products and communications required to run U.S. government offices. Additionally, it provides transportation and office space to federal employees, and manages other tasks. The GSA employs about 12,000 federal workers and has an annual operating budget of more than $26 billion. However, this pales in comparison to the amount of money that the GSA oversees that is spent on buying stuff for the US government. To put things in perspective, the Federal Government has motor vehicle fleet of around 210,000 vehicles. The GSA also manages real estate assets for the government, which it periodically auctions off to the public. This is why you will often see real estate auctions comprised of old Social Security Administration buildings and other real estate assets. From time to time, you will even see small islands and other unusual properties being auctioned off.
However, when it comes to auctioning things off, the GSA does not operate for profit. Its job is to dispose of millions of dollars of government assets, and for the most part, it is willing to accept whatever amount it can get for those assets through an auction.
Where does the agency get stuff it auctions off?
All of the items sold by the G.S.A were purchased with federal tax dollars; that is, with your money. It takes a lot to operate a government as vast and powerful as that of the United States. In order to function, the government needs everything ordinary citizens would need: cars to transport government officials and serve as security;  computers and furniture to fill its offices; boats to patrol the seas; scientific and industrial equipment used in laboratories and various agencies; and much more. When the government decides to upgrade its fleet of vehicles or computers, or even close an entire department due to budget cuts, it auctions off these assets to the public.
What you need to know?
Since the assets sold at these auctions are surplus, most are in fair to poor condition, as is to be expected. Some of the assets may be damaged and able to be repaired, while others will be beyond repair and sold for scrap. From time to time, you might be able to find items that are in excellent condition, too. Keep in mind that items need not be in excellent condition for you to be able to make a profit from them. If you could acquire a bulk lot of 20 computer monitors for $5 a piece, you probably wouldn't be too upset it some of them end up not working or needing repairs, because you could turn around and sell the monitors that do work for $25-$50 each and still make a tidy profit.
These auction items are sold "as is", and is not warranted in any way. You should take this into consideration when setting your maximum bids and adjust them accordingly. Sometimes you can set up an inspection date and examine the items before bidding. Doing so can great reduce your risk of loss and make for a much more pleasant experience.
Payment must be made in cash (up to $10,000), bank cashier's check, U.S. Postal Service or commercial money order, or personal or company checks that are accompanied by a bank letter of guarantee. Items must be paid for within 2 business days of you winning the auction and removed within 10 business days of winning the auction, or you may be placed in default status.
Start looking for surplus stuff by activating your free trial account right now!