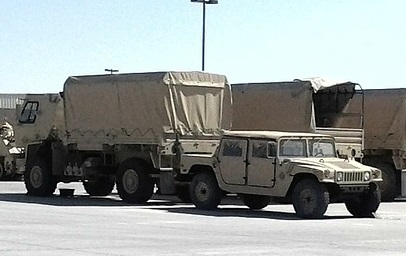 In part III of our six-part series discussing various types of government agencies that hold auctions, we talked about the General Services Administration (G.S.A), which auctions off billions of dollars of surplus assets for countless government agencies every year. However, one of the agencies that the G.S.A does not deal with is the Department of Defense, which instead contracts with outside companies to auction off its assets. The Department of Defense or DOD is a great source of assets and deals. The Department of Defense doesn't just auction off combat gear and military vehicles, either. On the contrary, it the department also auctions off tons of other stuff like medical supplies, computer and office supplies, gym equipment, and a slew of other things. Keep reading to learn more!  
What is the Department of Defense (DOD)?
The Department of Defense is a part of the executive branch of the federal government charged with coordinating and supervising all agencies concerned with our national security. It also happens to be the largest employer in the world. In total, the DOD has over 3.2 million people working for its various agencies. It takes a tremendous amount of money and resources to run a department of that size. For 2014, Congress allocated over $526 billion for the DOD to carry out its mandate. Every year the DOD auctions off hundreds of millions of dollars of assets that it no longer needs, some of which can be had for extraordinarily low prices.
Where does the Department of Defense get stuff it auctions off?
As we mentioned above, the Department of Defense spends more money than some countries do. It has a lot of stuff, and not just military vehicles and gear, either. As our military grows ever more sophisticated, a large percentage of money is spent on offices and intelligence equipment and offices. Thus, you can find some great deals on computers, printers, office furniture, and more. Additionally, the DOD is an excellent source of scrap metal, plumbing supplies, medical supplies (x-ray machines, hospital furniture, instruments,etc), travel trailers, and more.
What you need to know?
Many of the auctions for the Department of Defense have a buyer's premium attached to them. This means you will have to pay an additional amount (around 10% of the purchase price) to the auctioneer, in order to cover the expenses that they incur in running the auction. Remember to take the buyer's premium into account when coming up with a maximum bid for yourself.
Almost all auctions for the DOD now take place online. However, the auctioneer will not ship the items in most cases so you will either need to find a reliable shipping and packaging service to handle this for you, or pick the items up yourself.
As a general rule, credit cards are now accepted as payment for items that are won, although an amount in excess of $10,000 has to be paid with certified funds (e.g. certified bank check).
Start looking for surplus stuff from the United States Department of Defense by activating your free trial account right now!