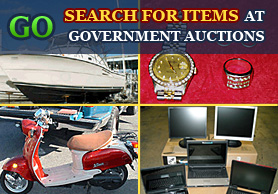 Hey there! We heard that you want to know how a typical government auction works, and we would love to help you understand everything from beginning to end.Here's a behind the scenes look at the government surplus auctions scene from our comprehensive experiences in the field as well as from an online government auctions websites perspective. 
There are two main categories of federal government auctions:
A) Seized Property Auctions:
This includes government seized car auctions, other seized auctions, seized auto auction, etc.
B) 
Surplus Property Auctions:
 This includes original property of the military surplus auction, state auctions like Wisconsin surplus auction, and other military surplus auctions.
Seized Property Auctions:
A) come about via
i. Criminal Seizures
Example: Drug trafficker's home is raided, and his possessions are confiscated because they were purchased with money made from illegal activities.
ii. Tax Seizures
Example: IRS finds individual did not pay the required tax, and seizes the person's possessions, (like cars, jewelry, and real estate) and sells them with the intent to sell them to satisfy outstanding tax liability. Sometimes these are even sold via online tax lien auctions!
iii. Customs Seizures
Example:  from companies that tried to smuggle merchandise into the country without paying import duties or declaring merchandise properly, or even from people that failed to declare their merchandise properly when returning from a foreign vacation.
All of the above is included as well as any other ill-gotten gains.
Example: Police seizures of stolen property, not claimed by rightful owner within the allotted time, so the property goes into a police seized auction.
Example: local sheriff's sales of foreclosed real estate and other court ordered assets go into federal government auctions that specialize in government property auctions.
Surplus Property Auctions:
These are essentially US government auctions for goods or property that a particular government agency no longer needs or that have been become obsolete by government standards. This category includes state surplus auction sales as well.
Example: a particular state decides to sell its automobiles or other equipment which it no longer has any use for, and it decides to upgrade by selling its unwanted assets in a gov surplus auction.
Example: A state university sells furniture, sports equipment, scientific equipment, or medical supplies to make way for new ones by selling off their holdings in gov surplus auctions.
Example: the US military decides to sell its surplus equipment through a military surplus auction. In the case of the US army, any American military goods that have been classified as surplus are ones that fit the following criteria:
Surplus military goods may be becoming too old or obsolete for our military's current use – like tents, sleeping bags, and clothing, all of which go through some wear and tear over time, and it is only a matter of time before the military deems the items unfit for official use.

Military technology advances have created a need to upgrade to current state of the art equipment that is better than the enemy's equipment. That is to say, when you take a look at any of these items sold in public surplus auctions, you can see on the market that there have been new and upgraded versions created with modified technology that is a better fit for today's military requirements. Instruments used in the field from the 1980s are very different from the ones the military uses today. They could be made from different materials, might be designed differently, and today are able to withstand colder and hotter temperatures. With all of the above in mind, we can understand the reasoning behind why military surplus goods items are such bargains online. The underlying reason for these amazing deals that you can find at any US government auction is that the military needs to keep our armed forces equipped, armed, and supplied with the most cutting edge military technology that is available today.
Now we understand the structure of the typical government liquidation auction.
Let's discuss how it all works on your end.
In all these circumstances, the government agency involved (either directly, through online government auctions on government auction sites, or through a third party auctioneer) typically puts up the property at a public oral auction, and the general public is able to attend and bid on the seized or surplus items or property, and the goods go to the highest bidder.
While this works differently for various auctions the larger ones typically make a special list available for the public two to three weeks before the auction. This is a list of items is created by the government agency that will be conducting the sale or auction, and is put out in order to help bidders decide what they want to buy and how much they would like to spend.
There will usually be a one or two-day period several days before the auction during which one must register for the auction, and during which time one can (and should) inspect the merchandise that will be offered up for bid on the auction day.
When you register for the auction, you will typically get a large bidder number and an auction catalog that will list the items up for sale next to their ID numbers. Then, when you walk around the inspection area and physically look at and inspect the goods that will be up for bid, you will notice that they are marked with their ID numbers which you can then look up in the auction catalog.
Sometimes, however, inspection of a particular lot may be in another location altogether, (like some government customs auctions).
Several days later, at the time of the actual auction, the auctioneer will call out the ID number of the item being auctioned off (one-by one), and will give a short description of the item. At that time, the auctioneer will begin soliciting bids. This process will go on until the item is sold to the highest bidder, and then bidding begins on the next item.
For most merchandise or property, full payment will have to be made that day (or within several days) via cash or cashier's check, and you will have to remove it from the promises yourself.
In the case of real estate or other very expensive items, there is usually a 10 to 20% deposit that will be required on the day of the auction, and you may have from several weeks to a month to pay the balance.
We hope that this guide has educated you on the various types of government surplus auctions, and how to take advantage of the great deals being offered, even if it your first time at the auction house! For any further information, and to view government surplus auctions near you,  simply click here to subscribe to www.governmentauctions.org for your FREE 3 day trial.
Chao!