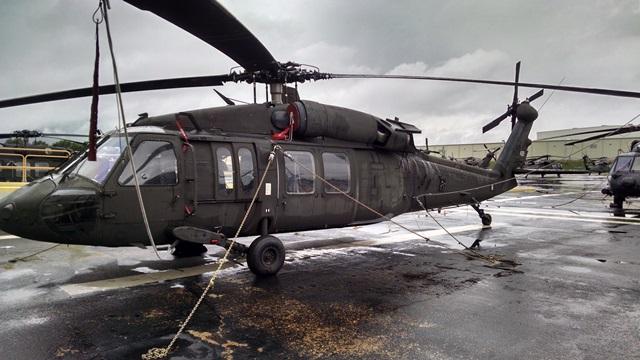 Before we explain how amazing this deal is, let us just explain one this. For sale today is a Sikorsky Uh-60A Black Hawk Medium Lift Utility Helicopter a.k.a Black Hawk Tactical Military Helicopter! Let that sink in for a bit…
How many people do you know that are willing and able to buy helicopters at their slightest whim?  Today, you are fortunate enough to be able to join the elite paradise helicopter owners club! The skies are yours for the taking! Clouds are but playful mists asking to dance with your helicopter blades. This is no drake and josh helicopter for children – this Black Hawk is proud to be included in the powerful class of military transport helicopters. With this nifty toy you can literally do anything! You can fly fast and low, or cruise at a snail's pace up high in the sky. Want to throw a party in your luxurious Hamptons home this weekend? Why don't you pull a "pimp my helicopter" and redo the inside of  your chopper with the must luxurious interior designs possible, and viola, you now have your very own luxury charter helicopter!  Perhaps you are looking for heavy lifting helicopters instead? No problem – this baby can haul an incredible 2,600 pounds (1,200 kg) of cargo internally or a massive 9,000 pounds (4,100 kg) of cargo externally by sling. Let's put it this way: you can transport $410,000,000 in hundred dollar bills at once with this amazing tactical helicopter! As helicopters go, the is most likely the cheapest helicopter for sale today when it comes to the bottom line ultimate bang for your buck. 

Let's get to the technicalities now: 
The UH-60 features four-blade main and tail rotors, and is powered by two General Electric T700 turboshaft engines. The main rotor is fully articulated and has elastomeric bearings in the rotor head. The tail rotor is canted and features a rigid crossbeam. The helicopter has a long, low profile shape to meet the Army's requirement for transporting aboard a C-130 Hercules, with some dis-assembly. It can carry 11 troops with equipment, lift 2,600 pounds (1,200 kg) of cargo internally or 9,000 pounds (4,100 kg) of cargo externally by sling.

The Black Hawk helicopter series can perform a wide array of missions, including the tactical transport of troops, electronic warfare, and aeromedical evacuation. A VIP version known as the VH-60N is used to transport important government officials (e.g., Congress, Executive departments) with the helicopter's call sign of "Marine One" when transporting the President of the United States. In air assault operations, it can move a squad of 11 combat troops or re-position a 105 mm M119 howitzer with 30 rounds ammunition, and a four-man crew in a single lift. The Black Hawk is equipped with advanced avionics and electronics for increased survivability and capability, such as the Global Positioning System.
This excellent army helicopter is bidding at just $200,000! That's peanuts compared to the average $8,000,000 price tag on a new helicopter! This auction ends on the second of September, at 10 AM Central Time. As of the time of this post, there remain but 4 Days and 22 Hours until you are the proud owner of a hot, hot, hot helicopter!For any further information, simply click here to subscribe to www.governmentauctions.org for your FREE 3 day trial today!